---
INDEX

---
AZT





Chemical Name: Azidothymidine
Generic Name: Zidovudine
Nick Name: AZT
Brand Name: Retrovir ® (Retrovis ®)
Manufacturer: Glaxo-SmithKline
---
The above articles can be read best in sequence from above to below.
---
DUESBERG ON AZT
---
PERTH GROUP ON AZT

Paper by Papadopulos et al. explaining why AZT cannot work against HIV.
---
TV DOCUMENTARIES

Vivienne Vermaak made a short documentary on AZT for South African TV. It was broadcasted in December 1999. Read the transcript.

The London production company Meditel, specialised in TV-programmes on science, medicine and general health issues, made a documentary about AZT, broadcasted by UK's Channel 4 in 1992. Read the transcript.
---
BOOKS ON AZT
---
CITATIONS

Some quotes from the medical literature.
---
AZT FUGITIVES

Read more about forced AZT treatment of children, legal battles, and AZT fugitives.
---
PACKAGE INSERT

Retrovir's package insert (PDR '96), and some additions.
---
FDA DOCUMENTS

Some of the FDA documents released under the US Act of Freedom of Information showing the AZT phase II study, the study upon which the drug was released in the U.S.A. and many other countries, to be fraudulent and worthless.
---
AN EYEWITNESS ACCOUNT

Read the story of an eyewitness of the gross irregularities and medical incompetence in the early clinical trials of AZT
---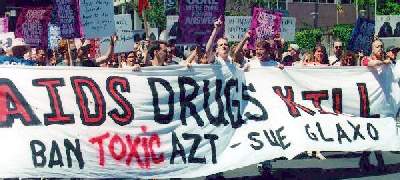 ---
OTHER DOCUMENTS

If you decided not to take the treatment, you can use the following documents:

Should a physician insist that you, or your child, take treatment, insist that they first sign this certificate of treatment efficacy and safety. (If this does not work you still can fire your physician. People flush their drugs down the toilet too, lie to their physicians, go into hiding, and flee abroad.)
---
LEGAL PROCEEDINGS

| | |
| --- | --- |
| Legal proceedings against Glaxo-Wellcome and Health Authorities are being prepared world wide If your health, or that of your partner or child, has also been damaged by AZT, you may be able to sue too. | |
---
MORE INFO

See also under GLAXO and PROTEASE INHIBITORS, and NEWS
---
The label on an AZT bottle from the Sigma Co. The warning on the label reads: "TOXIC. Toxic by inhalation, in contact with skin and if swallowed. Target organ(s): Blood bone marrow. If you feel unwell, seek medical advice (show the label where possible). Wear suitable protective clothing." Note the skull and bones on the label; the warning for a deathly poison (Bottle contains only 100 mg, humans are prescribed 300 to 1500 mg a day).
---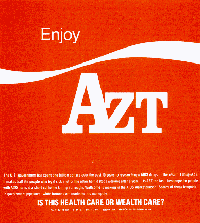 ---
CONTROVERSY MISSING VIRUS THE GROUP
WHISTLEBLOWERS CENSORSHIP
BOOKSHELF FRONT NEWS
FORUMS FIND

HOMEPAGE